Welcome to Our Practice
China Township Family Dentistry
Welcome to our website! From the moment you walk in you will notice a difference at China Township Family Dentistry we care about you, your family and friends and we're here to help you achieve your healthiest and brightest smile. We want you to be confident that your smile will achieve your goals of comfort, function, and appearance. We're here to make that happen.
We also understand that choosing a dentist is an important decision. After all, your smile is your greatest asset and says a lot about your overall health. From the moment you walk in the door, you'll be welcomed by a caring staff in a relaxed, and stress-free environment where the whole family can feel at ease.
We know every person's dental needs are unique that's why at China Township Family Dentistry we offer a full range of general & cosmetic dentistry to help you achieve your perfect smile. We utilize the latest in dental technology and techniques in order to offer you the best preventive care and dental treatment in a comfortable and convenient atmosphere.
To learn more about comprehensive dentistry and the available office procedures, please take a few moments to look at the patient educational pages on our website. For additional information, you can always contact our office by calling us or stopping in.
Relax with confidence at China Township Family Dentistry. We're your neighbors and we're here to help you maximize the health of your smile.
Dr. Anthony Giuliano and Dr. Gordon Charlton
... would like to thank you for choosing our practice to provide your dental care. Our goal is to offer the highest quality restorative and preventive care available anywhere in a relaxing and caring family environment - with a special focus on how your teeth and gums relate to your overall total body health. We look forward to serving you now and in the years to come.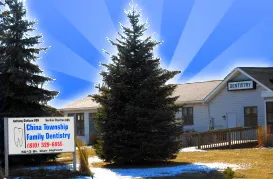 Our Treatment Philosophy
As leaders in dentistry, we strive to provide top quality care to our patients in order that they achieve excellent oral health, a smile that achieves the goals of comfort, function, appearance and lasting esthetics through communication and knowledge that exceeds our patient's expectations.
Procedures
General Dentistry for the entire family (parents and children)
Crown and Bridge
Cosmetic Dentistry
Gum Disease (Scaling and Root Planning)
Orthodontics (Braces for adults and children)
Endodontics (Root Canals)
Extractions including wisdom teeth
Implant Dentistry
Invisalign
Bruxism/ Snoring appliance therapy
Snap-on Smile
We've developed this informational website as an extension of our practice, to serve as a convenient, educational resource for our patients. With just a few clicks, you can find helpful information about our services, credentials and office policies. You can also easily access patient forms or request an appointment with our dentists.
Our Location